Who is Savvi, and what are we about? We are a company that has currently JUST LAUNCHED... We hung out in PRE-Launch for a year to fine tune all the things & went BIG Fall 2021! That's right; we are a fast-growing company that is still in the early growth stages! You could be one of the first in a company that is projected to become a billion-dollar global company. No, seriously! Wow!
Are you a busy woman, momma, girl boss, or just an everyday gal who loves to look and feel good? Well, let me tell you- you came to the right place! What is Savvi all about and why should I take a look? Think about your best fitting pair of leggings or athleisure wear that are buttery soft, hug all your curves, and accentuate your best assets! Now, what if I told you that you could get the same great fit without breaking the bank. Got your attention didn't I? Good! We are a premium Athleisure wear brand- Really, it is a lifestyle brand. Think: leggings, tank tops, sports bras, jackets, and layering pieces for anytime wear. These are pieces that transition seamlessly from working out to living your everyday life from chasing kids, running errands, work, date night and sitting on the couch watching Netflix. Each piece is comfortable and flexible to live your best life in!
Our Mission
Our mission statement is all about EMPOWERING women and building CONFIDENCE in their own skin, to get moving and to live their best life! It is about feeling amazing in the clothes that fit our beautiful bodies. I am sure you are aware of the fitness revolution that is taking place- We want to be a part of that REVOLUTION! While we are focused on empowering women to get moving, we want to take it one step further. We want you to feel amazing while doing so! When you feel better in what you are wearing, you tend to do more, feel better, and impact those around you more positively. Savvi is all about CHANGING LIVES.
Inclusivity
We are also all about being inclusive so our sizes range from XS-3X in most cases every size, every shape, every physique. We want everyBODY to get moving and feel really good when they do.
Savvi is all about

CHANGING LIVES

and aims to

EMPOWER

women. Savvi works closely with their brand partners to choose our core line items, improve customer experiences, add new pieces, and SO much more! When have you had the opportunity to be

FIRST

in a company and they ask

YOU

to help build it?! That is another way Savvi is different and impressive!
Integrity
We have partnered with amazing designers with top-notch experience! Our designers understand women's bodies, so they are curating pieces and designs to fit women really well! Think: high-waisted leggings and clothes that embrace your curves. Ultimately, these are pieces that will make you feel amazing wearing them.
The second reason is the sustainably and integrity of our Savvi brand. We are not fast fashion; we are not forever 21 or H&M. Savvi is a premium brand, and we are all about sustainability, high-quality pieces. Create pieces that you can wash over and over again; they will keep their shape and feel and fit as well as they did when you put them on the first time.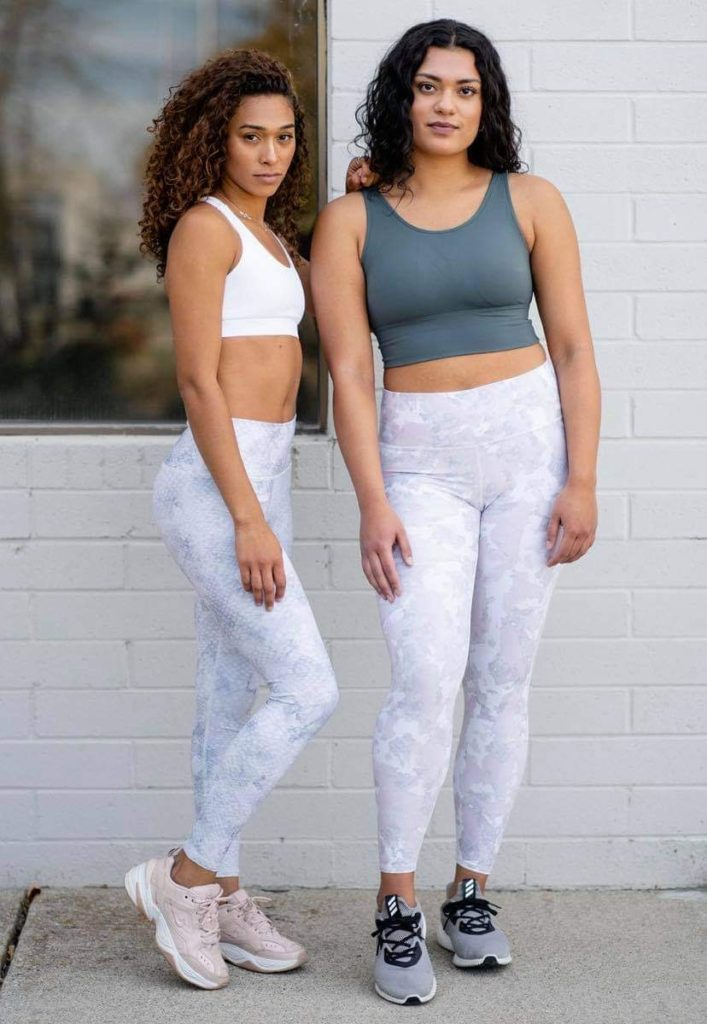 Simple Technology
Savvi is cutting edge in the technology of our back office, customer app, business building apps, and personal websites. They make use look so tech-savvy and on top of things, but really they are making it so stinking easy for us!
Know who you partner with!
When you partner with a new brand, you want to make sure they have integrity behind the brand, which is our main focus. You want to know where the material is being made and what the process is. Again, we are all about empowerment, so our manufacturing partners we have aligned with are the best of the best. Creating Athleisure wear products in a positive work environment, fair wage employees. Our amazing top-notch designer has gone out and partnered with the best of the best, so everyone that touches our clothes has a positive experience and is empowered to be more and do more. Want to chat with me about how to get started? Schedule A Chat Here!!
Can you get paid to just simply wear & share the clothes?
I know when I first found Savvi-I had been praying for an opportunity that would be BIG, but I could easily slip into my everyday life. The first way you make money is through affiliate marketing. As a Brand Partner, the company will pay you up to 25% of all the clothing your customers buy, starting with the very first dollar. That is right- No quotas! No inventory! No Parties! As a Brand Partner, your job is to wear and share and connect people back to Savvi. It is that easy! The second way you make money is by connecting other women to Savvi, who also want to be a Brand Partner. When they place an order or become a Brand Partner, you earn a percentage! That is what makes this opportunity so great!
Check out our extensive compensation plan- It speaks for itself!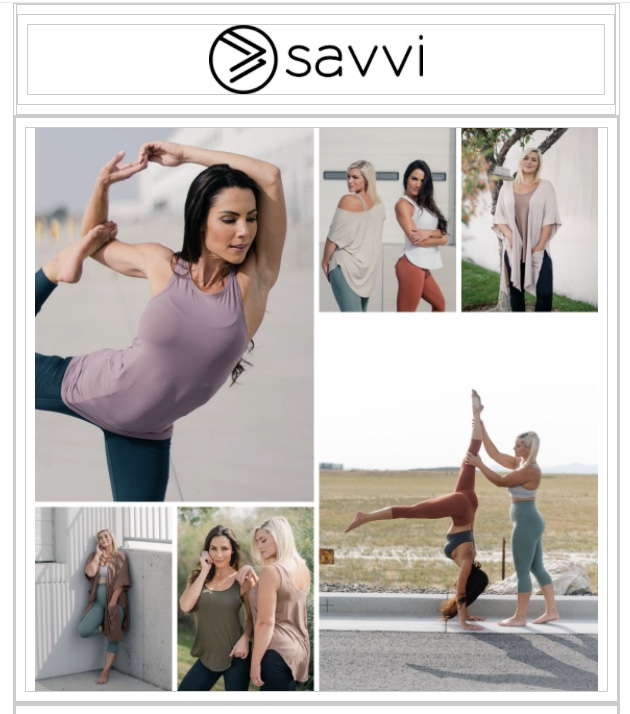 Don't Wait
Who likes being FIRST? I mean, who doesn't right? Alright, friend, so I am guessing you are reading this for a reason because deep down, you have been secretly searching for something that would allow you to live a life you love, stay home with those babies of yours, quit a job you hate or pay for all the groceries. I am with you! You only get one shot as being FIRST, and that is a HUGE opportunity!
Value Packs
Assuming you want clothes, which of course you do, because it's clothing biz and clothing you will LIVE in, it is best to purchase your Enrollment Pack! The Enrollment Packs are $249, $499, or $999. I'm always going to suggest the bigger package; it's in your best interest with the most credits toward extra clothing AND gives you a head start if you desire to pursue the business portion; no one has ever regretted purchasing the best package! While you at your computer, click here to enroll. It is easy to enroll and I am happy that you are ready to help EMPOWER women! Congratulations and welcome to Savvi!!! If you just want to start by making a purchase to see first-hand the quality of the products before deciding, message me for a $25 Savings Code on your first order! Place your order HERE!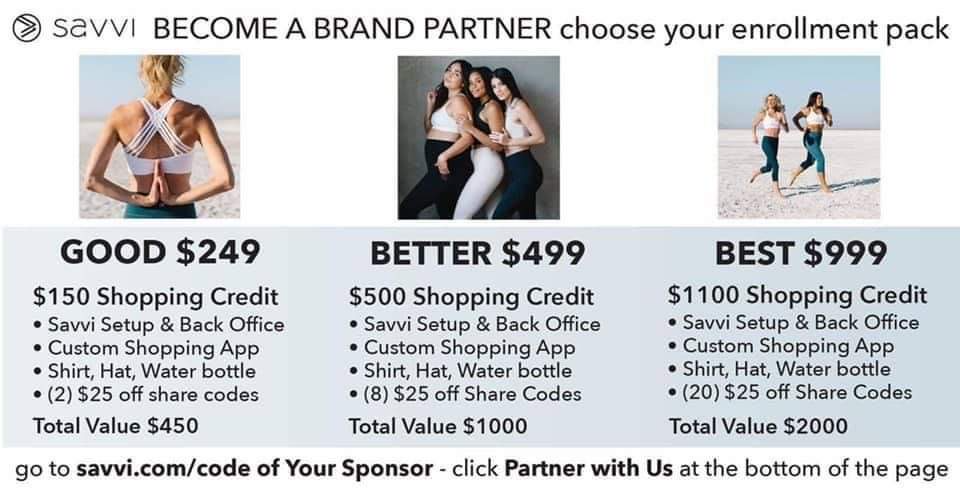 Listen, girlie, some advice for you: DO NOT WAIT! You will think of a thousand reasons not to try something, but while you are thinking about that, women are jumping in and making a difference in their life and the lives of those they touch! Don't wait for another second-I promise I will teach you everything you need to know, but you will be amazed at how easy and fun this opportunity is! If you want to EMPOWER women, live comfortably and hit the ground running in a business, it is time to JOIN NOW. Please feel free to schedule a CHAT HERE! to find out if Savvi is a great fit for you! Let's chat and let's find out. #NoRegrets #LiveYourBestLife #Savvi