Nov 8, 2019 11:14 AM Central
Judith C. Labert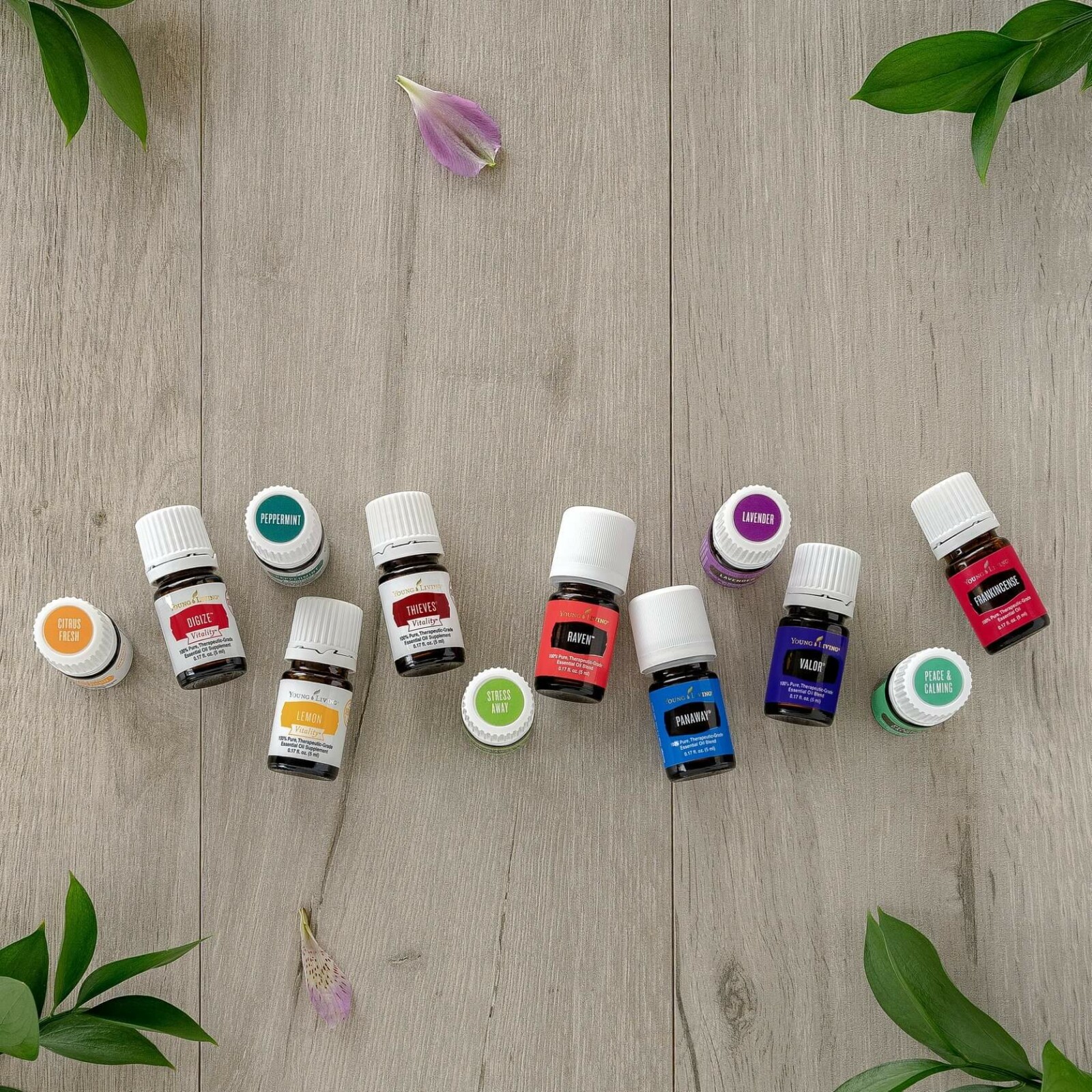 Hello Friends!
We have some EXCITING announcements with LOTS of FREE gifts coming your way this month! I don't know about you.. but FREEBIES are my favorite!
➕ Young Living is launching their first EVER essential rewards BOGO!
➕ From Nov 1 - Nov 15, (or while supplies lasts) you can get BOGOs with your monthly Essential Rewards order!
🔥Add a 15 ml bottle of Longevity to your ER order, get a 15 ml of Eucalyptus Radiata Free!
—SALE #3388
🔥Add Super Cal Plus to your ER order, get a 5 ml bottle of Peppermint Vitality free!
—SALE #20240
🔥Add a 5 ml bottle of Valor to your ER order and get a 5 ml bottle of Purification free!
—SALE #3430
🔥Add a 5 ml Thieves Vitality to your ER order, get the travel 2 oz. Thieves AromaBright Toothpaste free!
—SALE #5631
Process your ER orders by November 15th or sooner, some of these items may sell out!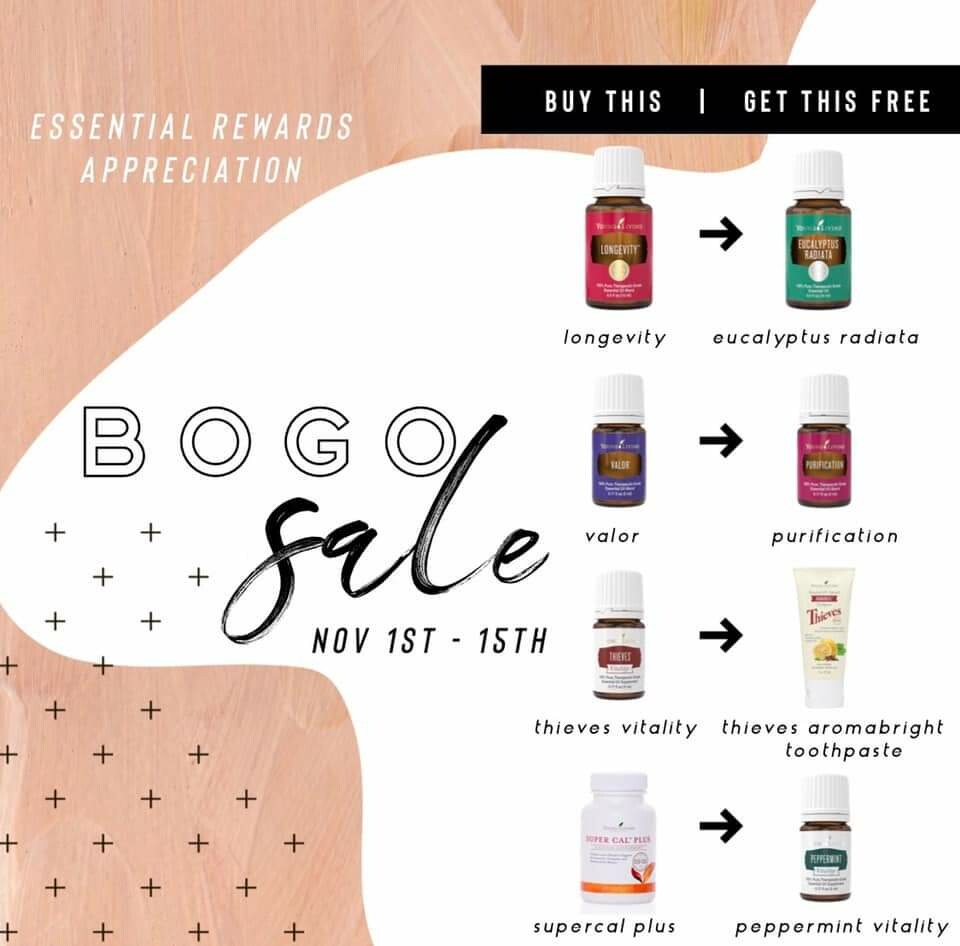 Product Details!
🌱SPA VIBES BOGO
• Longevity™, 15 ml: Nourish your complexion. Massage 1- 4 drops of Longevity onto your face for a youthful glow.
• Eucalyptus Radiata, 15 ml: Create spa vibes. Diffuse this crisp, clean scent whenever you need a little R&R. Also! I love this one for congestion!
🌲THIEVES BOGO
• Thieves® Vitality™: Spice up your life! Sip a mug of warm water with a drop of Thieves Vitality added to support healthy immune function.
• Thieves® AromaBright® Toothpaste, 2 oz.: Dazzle when you smile. Clean and whiten your teeth with the power of Thieves.
🌳WELLNESS BOGO
• Super Cal™ Plus: Bone support! Take two capsules daily for a boost of calcium, magnesium, Vitamin K, and Vitamin D.
• Peppermint Vitality™: Start your day strong. Stir a drop into your morning glass of water for a minty pick-me-up and the freshest breath ever.
🌿FAN FAVORITES BOGO
• Valor®, 5 ml: I love this one for helping me to feel calm, relaxed, and confident!
• Purification®, 5 ml: Sayonara, stink! Add a few drops of Purification to your dryer balls and toss in with your clothes. Smells. Be. Gone!
———————————————————
Want some ideas for your ER order?
•Christmas Spirit Essential Oil (holidays are coming!)
•Ningxia Red (antioxidants!(
•Super C (stay ahead of the germs!)
•Life 9 (happy gut happy life!)
•Thieves hand sanitizer (germs.)
•Immupower essential oil (immune support)
•Thieves laundry soap (no explanation needed. If you're not using this you are missing out!)
•Clove+Nutmeg+Cinnamon Bark (best fall diffuser blend!)
•Essential Beauty Serum (for dry skin!)
•Charcoal bar soap (my fave face wash!)
•Art Intensive Moisturizer (because winter is coming)
•Inner Defense (be prepared!)
•Thieves Cough Drops (I pop these like candy. So basically, they're candy with benefits. Lol!)
WOW! We are excited for even MORE free gifts this month! To add to it, we want to do something fun! 🎉In celebration of Young Living's first ever ER BOGO, I want to do something EXTRA FUN!!
🎉Process your Essential Rewards order anywhere between the 1st and the 15th of November and you will be entered in to win SURPRISE GIFTS!! I will be giving away FIVE gifts to FIVE lucky winners!! All you have to do is process your ER order (or JOIN ER) by the 15th of November! We will announce winners in our Live Well Be Well fb page! (We will contact you if you are not on fb).
Lastly, did you see the freebies YL is giving in our ER orders this month??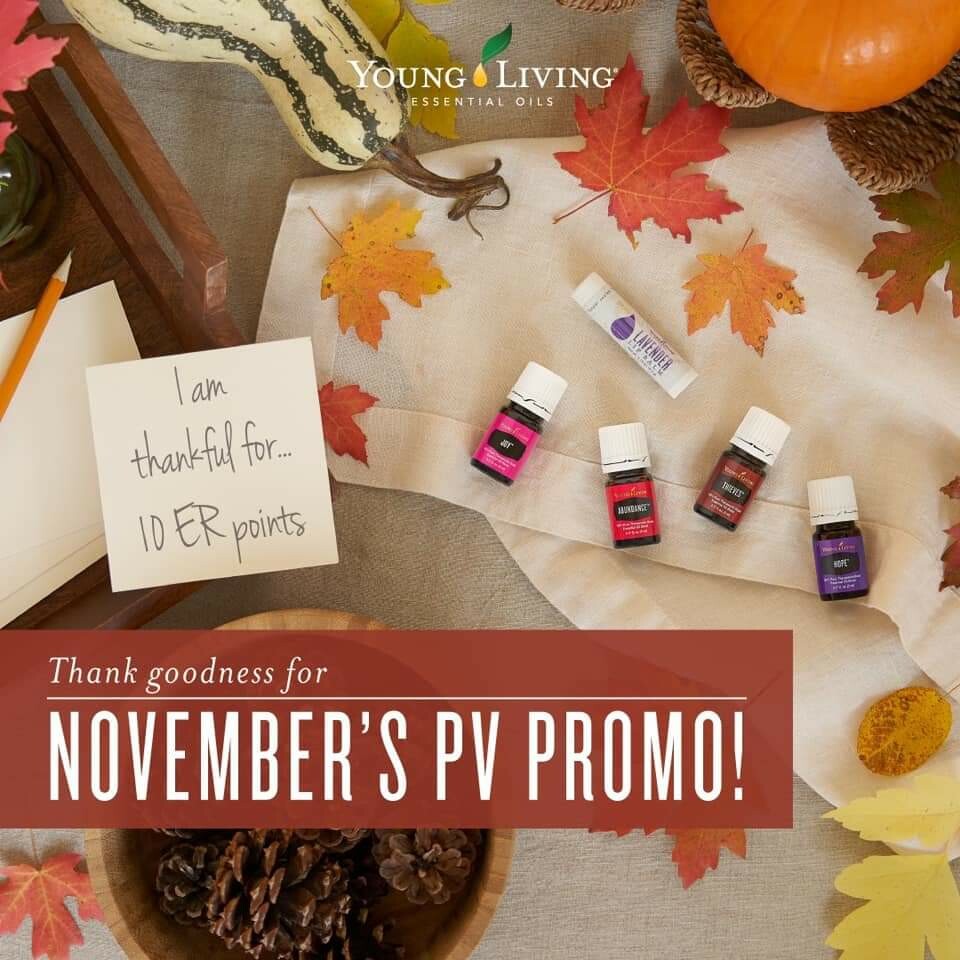 300 PV tier
Retail value: $157.36
Hope™ essential oil blend, 5 ml
• Uplift and inspire. Diffuse Hope to let the beautiful scents of Melissa, Juniper, and Black Spruce envelop you.
• Get your mojo back. For a pick-me-up scent, massage a drop of Hope on the outside of each ear.
Thieves® essential oil blend, 5 ml
• Embrace fall fever. Savor the small things like golden leaves, spiced cider, and the warm aroma of Thieves.
• Clean with a cozy scent. Add a few drops of Thieves to natural cleaning solutions.
Abundance™ essential oil blend, 5 ml
• Power up your life! This blend's bold aroma inspires you to seize your vision.
• Touch your heart. Apply Abundance—diluted at a 1:1 ratio—to your chest during prayer or meditation.
Lavender Lip Balm (ER exclusive)
• Introduce a friend to essential oils. Make the unfamiliar familiar to your loved ones by gifting them Lavender-infused lip balm.
• Winter-proof your lips. Glide on this soothing balm to nourish and protect your smile.
Joy™ essential oil blend, 5 ml (ER exclusive)
• Boost spirits. Apply a drop or two of Joy to a friend's wrist for an uplifting scent.
• Create a happy home atmosphere. Diffuse this blend for a cheery floral fragrance.
10 ER points (ER exclusive)
• Save on your faves. 10 ER points translates to $10 you can spend on new products.
• Get a jump on gift-giving. Pay your points forward by using them on a thoughtful present.
I love the holiday options and all the goodies, whether you keep them for you (Sometimes we don't need to share!) or use them for gifts! It is a wonderful time to be a member! :)